Worldwide 7-15 Working days

Fast refund, 100% Money Back Guarantee
Flimsy cords are so common nowadays that people have developed an exceptionally low standard for what a quality cord is. Why continue wasting your precious money on a cheap, rubbish cord that hasn't changed in the past 30 years?
Luckily, you finally get the chance to experience what you deserve... A quality charging cable. Our Led Magnetic Charging Cable is the upgrade you've been waiting for.
Ward off all damage to your charging cable with our Magnetic Design!
Easily connect to your phone's charging port in a snap - even with just one hand.
Impress anyone with the luminous colors that replicate an electrical current!
Perfect for visibility and awe-inspiring moments. 😲
High-quality material that allows our  Cable to be ultra-durable
High-quality nylon braiding and TPE casing provides maximum durability and allows you to charge your phone without worrying about breaking your cable.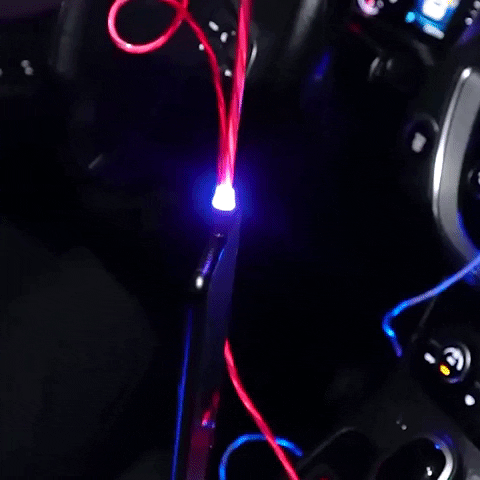 Increase charging speeds by up to 60% with our hyper-intelligent technology
Stop wasting your precious time waiting for your phone to charge, upgrade to a Cable TODAY!
Not sure which charging cable is correct for your phone? Google "What charging cable does the (Enter your phone here) use" or match your current cord with the picture below
Frequently Asked Questions
Question:
Can I charge my phone while using a phone case?
Answer:
Yep! Unless you have a really thick phone case near the charging port, you should have no problem using our charger while wearing a case. Over 90% of cases are compatible with our chargers.
Question:
Can I use this charging cable with a [example]
Answer:
If your device has either a [8 Pin], [Micro USB], or [Type-C] input, you'll have no problem charging your device with our
 charging cable. If you want to know if any specific devices work with it, feel free to google it or message us at sells@forcehi.com
Question: 
Is the
 charging cable safe to leave plugged in?
Answer: 
Absolutely! You won't have to worry about blowing a fuse or overheating your socket. Our charger is no more dangerous than any other charger on the market.